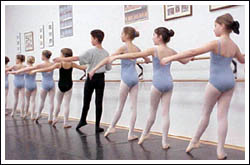 SCHEDULE

Classes offered include ballet, pointe, jazz, modern, tap, and various other dance idioms. The school program centers around a strong technical foundation in classical ballet in order to better prepare all students for multi-dimensional dance vocations, including choreography, performance and teaching.

SCHOOL CALENDAR 2006 - Aug. 7 - FALL CLASSES BEGIN (Schedule of Classes is now posted). The School is now conducting Summer Session classes.

2006 ANNUAL RECITAL WRAP-UP - Thank you to all who participated in and attended our Spring Dance Gala 2006 and "The Pied Piper of Hamelin" at The Annie Russell Theatre, Rollins College, June 3, 2006, at 7 PM. Don't forget that student photographs and performance DVDs are available through special order at The School.