PROGRAM OF CLASSES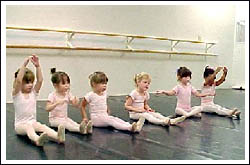 CREATIVE MOVEMENT AND PRIMARY DANCE - Our youngest students, boys and girls, are invited to begin their introduction to dance with courses in Creative Movement and Primary Dance. Our goal in these classes is to develop coordination, self-expression and motor skills using music and age-appropriate choreography, and to build a love and appreciation of dance that will carry the student into future study.
We concentrate on developing the attention span of young children and giving them a sense of the social and educational setting of a dance lesson. Above all at this age, we want dance to be an enjoyable experience that combines learning with fun.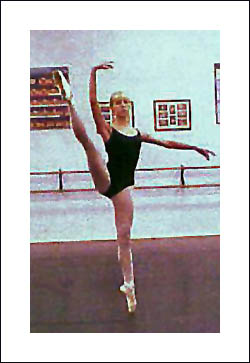 BALLET TECHNIQUE - The study of ballet is the foundation for all types of dance technique, and is the main focus of our training at Interlachen School of Dance. Ballet terminology, positions, body placement and exercises usually serve as the dancer's first introduction to a dance education. They prepare students for entry into any other dance idiom by endowing them with a strong physique, good placement (body posture, alignment), musical awareness and a movement vocabulary.
Our original ballet teaching syllabus is a graded, progressive level-by-level approach based upon proven teaching techniques, especially the Vaganova (Russian) teaching system.
Because today's dancers must often be "international" in scope and abilities and be able to perform in any style, we also incorporate other proven ballet teaching techniques (French, Cecchetti, R.A.D.) into our classes in order to create a well-rounded, versatile dancer. We want to acquaint them with different styles so that they are prepared to audition or perform with ease in any circumstance. We welcome guest teachers who have studied these and other recognized teaching methods as part of our curriculum, and we encourage our dancers to remain open to different ideas and methods as they pursue this highly competitive field of the arts.
Many students in beginner classes attend only one or two lessons weekly, but all students are encouraged and advised to take a minimum of two lessons per week, if possible. Dance is a physical skill that is sharpened and attained only through repetition, and increased ability is always attributed to increased time spent each week in classes. At certain levels, therefore, students are required to attend class more than once or twice weekly in order to maintain the necessary physical skill and strength needed to remain with that level, and to build towards performing successfully without injury or difficulty.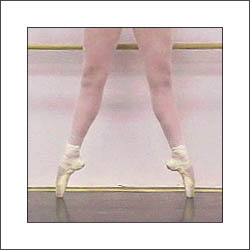 POINTE CLASSES - Pointe work is given as part of intermediate and advanced ballet classes for female students, and each student is evaluated on an individual basis before being allowed to participate. Reputable dance schools do not allow very young students (age 11 or younger) to dance on pointe because they know that doing so risks injury to the student, and places undue stress on undeveloped bones and musculature. It is the responsibility of all good dance teachers to protect their students by maintaining this standard.
OTHER RELATED THEATRICAL DANCE - Partnering, Variations, Repertoire and Dance History courses are an important part of our advanced dancers' education, and are included in the Intensive Summer Session, and may also be scheduled during the school year, if studio availability permits. Consult the current class schedule for details.
MODERN DANCE - A rapidly developing avenue for aspiring dancers, modern dance technique is now often a required skill for college-bound dance majors, and is often incorporated into much of today's stage choreography. Students with a primary interest in classical ballet should also have some training in modern dance in order to be able to perform current choreography with professional and regional ballet companies.
Our modern dance technique classes focus on Graham and Limon technique, but like our ballet classes, often encompass other styles as well in order to ensure that our dancers have an understanding and skill that will serve them in any audition or performance venue.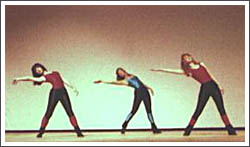 JAZZ - Today's jazz dance is a constantly changing idiom born in American dance studios and often combines elements of many other dance techniques. Depending on our faculty member's preferences, students are exposed to the latest stylistic trends in jazz, while always keeping the students "grounded" in learning the basics. From "Broadway" to "funky" to the "classical" jazz styles of jazz luminaries such as Gus Giordano, Matt Mattox and Bob Fosse, jazz remains a popular dance technique and a "must" for students who aspire to dance in musical theatre, film or television, as well as in dance companies.
TAP - Tap is another uniquely American dance form, but has its roots in clogging dances and other rhythmic folk dances that may have been originally imported by immigrants to America from other countries. Characterized by intricate footwork done to varied musical accompaniment, tap gives the students a strong sense of musicality, speed, and the ability to interpret music in infinite varieties through rhythm and timing.
OTHER RELATED THEATRICAL DANCE FORMS - For information about classes offered in Flamenco (Spanish dance), Musical Theatre Dance, and other offerings, please contact the school. Offerings vary from semester to semester.