LETTER FROM THE DIRECTOR
Thank you for your interest in our school! We hope this website will answer your questions and help you make a decision in choosing a dance school. Our Fall Class Schedule, Tuition and Policies and Application for Enrollment are available here to inform you fully.
NEW STUDENTS, please call the school for more details about correct class levels. Age limits should give you an idea about where to initially place a student, but class placement is ultimately at the discretion of the instructor and school director. Please don't hesitate to call the school at 407 673-4775 if you have questions.
NEW CLASSES BEGIN AUGUST 7TH! See below for registration dates in July and August.
WHAT ABOUT TEACHING CREDENTIALS? We want you to know there is no national or state licensing or "certification" for dance teachers. Teacher organizations such as DEA (Dance Educators of America) and DMA (Dance Masters of America) are paid membership groups that have devised their own syllabi, and conduct their own short "seminar" teaching workshops, after which they award their own "teaching certificates." Membership in these organizations is not equivalent to, or a substitute for, earning a four-year college degree (or a Master's degree) in Dance, which requires graduation from an accredited university, nor does it indicate any prior experience as a professional dancer.
THE REFERENCE "DANCED PROFESSIONALLY" is today often misused; being "paid to dance" can mean anything from being a cheerleader for a sports team to having a true lifetime career as a member of a ballet company, or as a Broadway performer. Though both may be said to be "professional", they are worlds apart!
WHY DO TUITION RATES DIFFER FROM SCHOOL TO SCHOOL? Our tuition rates reflect our commitment to quality: we keep our classes small (6 to 15), we hire only the most qualified, experienced faculty, and we support a high standard of excellence in all classes. We have suitable, well-designed facilities. We follow a syllabus closely allied to the most recognized teaching methods—Cecchetti, R.A.D., and Vaganova (in ballet). Even our youngest students enjoy a carefully prepared classroom structure especially suited to keep their interest level high and develop their potential. Though only a few students may aspire to a professional career in dance, we think your time and money should be spent acquiring the highest quality training available.
WHY IS THERE A MINIMUM ENROLLMENT PERIOD AT INTERLACHEN DANCE FOR PRE-SCHOOL CLASSES (5 MONTHS) WITH NO REFUNDS? Our youngest students thrive on consistency! If their learning is interrupted by frequent absences or they are allowed to "jump" from one activity to another without ever attaining a grasp of one skill, they gain little or nothing from the experience. Your dance experience should be productive and meaningful, and this means giving us enough time to fully explore your child's potential during a complete semester. We want to ensure that your class choice remains on the schedule and does not drop below the minimum number needed, which might necessitate canceling the class at mid-semester, or combining it with another class on a different day.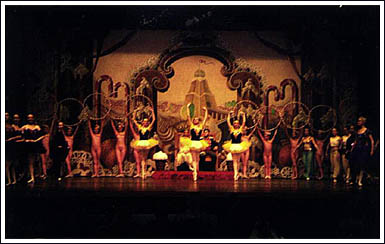 WHAT ABOUT "COMPETITIONS"? We don't participate in them, period. "Competition" schools with "dance teams" make quite a profit from selling costumes, receiving "kickbacks" on competition registration fees, and using "private lessons" to teach competition solos. Often, participating in the "team" becomes a social, not a learning, event, and is dependent upon who can pay—rather than who has earned the right to be a part of the group through talent and achievement. Dance is a performing art—not a competition sport! We believe that dance students should not be spending as much (or more) money on costumes and competition fees as they do on tuition; teachers should not be spending valuable class time rehearsing "routines" for competitions instead of teaching actual technique—the latter is a process that includes learning detailed terminology and perfecting the practice of many singular skills (turns, jumps, etc.), with great care and precision before they are allowed to perform them. These are the skills required in a professional (or college) dance audition. Participation in one or two performances a year is sufficient for any student until they reach a true pre-professional level. We live in an era of "instant gratification" as opposed to the solid values of persistence, dedication and perseverance. True learning is a slow, careful process that happens only over a reasonable period of time.
WON'T YOU JOIN US THIS AUGUST 7TH FOR THE BEGINNING OF OUR NEW CLASS SESSION? We hold OPEN HOUSE and in-person registration every Sat. in July from 9:30 to 11 a.m. and late registration on Sun. Aug. 6 from 2:00 to 5:00 p.m. our location at 1443 S. Orlando Ave. in Maitland (across from Park Maitland School and The Enzian). Please visit us then!

Marilyn Gaston, Director